Camp Director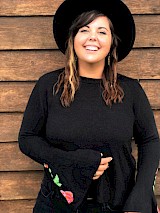 Mariah Pasko
Professional Bio
Mariah Pasko is a passionate, driven, and hardworking individual. She has experience working in a camp setting for over 10 years. She has worked in multiple roles, before acquiring her position as Program Director in 2014. She has a creative mind that brings any theme or activity to life. Her leadership skills are strong and focused. She provides an overall high energy level and promotes staff to do the same. She has experience adapting activities to fit the needs of each and every child involved in the camp program, and wants to see each one of them succeed. 
Mariah is a nature enthusiast, and is very passionate about her love for children and the outdoors. She believes recreational camp activities are incredibly important for every child to experience, as they give children a sense of confidence and opportunities to grow and learn new things about not only themselves, but others. 
Mariah believes in creating a wonderful, all inclusive program where children can come and be who they are, and be loved for it. A place where children can dance, play, laugh and learn, make new friends, and create the best memories. She uses her knowledge and experience in programming to help our campers have the ultimate camp experience.